Case Study:
Third Room
A client case study detailing an onboarding flow designed to connect high school teachers with visiting professionals in underprivileged communities with a focus on Research and UX Writing.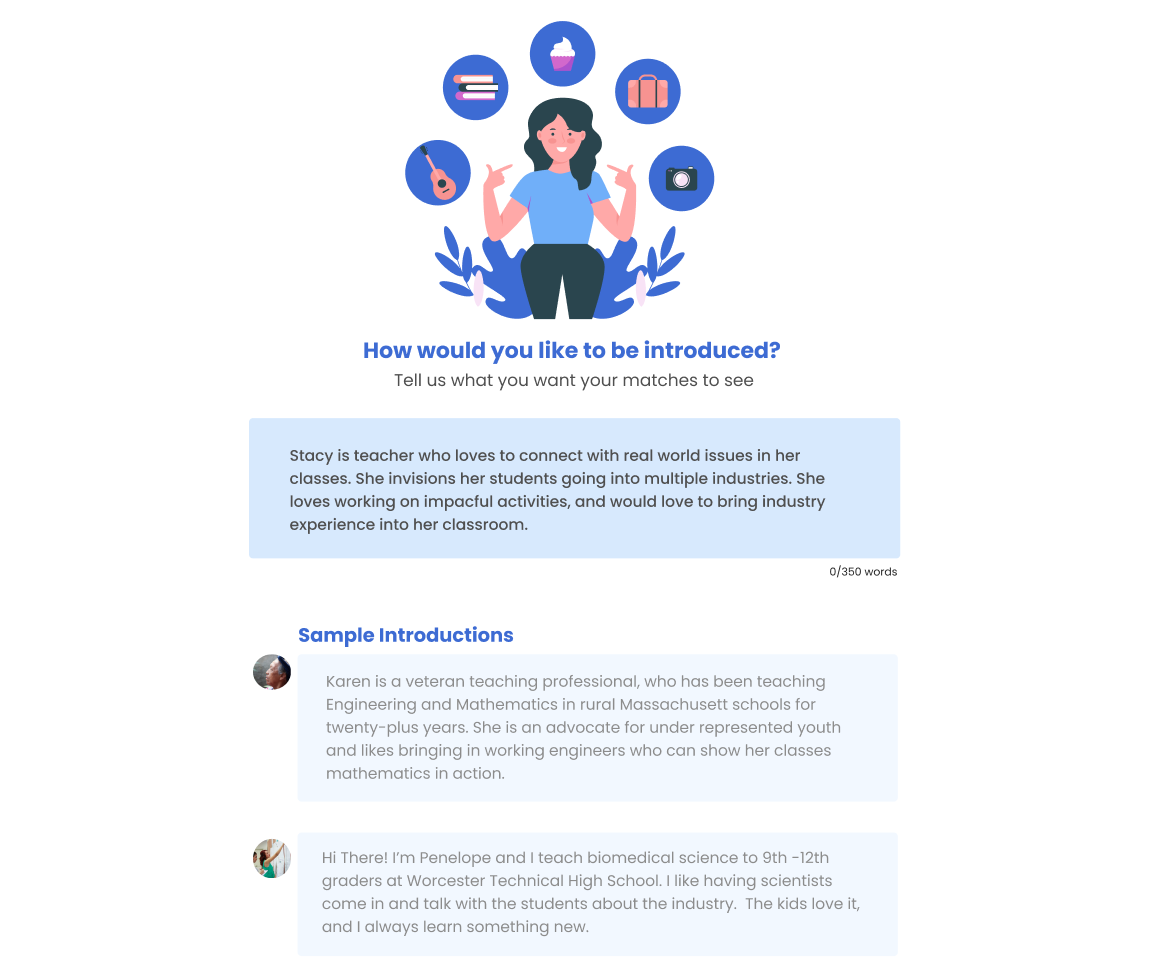 Project Overview
Role: UX Designer
Users: High School Teachers
Scope and Constraints: Develop a well-researched onboarding flow in a 3-week sprint
Project Brief Meeting
My team and I spoke to key stakeholders who shared their experience of matching professionals with teachers. The stakeholders asked for deliverables such as user research, and an onboarding flow. A global research report and final presentation would complete the project.
Studying Interactions of Comparators
Each of my teammates focused on the onboarding flows for three companies—the onboarding flows I looked at were UX Folio, Linkedin, and Coffee Meets Bagel. My Instinct was to track interactions and take screenshots of every screen I encountered during each onboarding flow, from the sign-up to account creation. Doing this allowed me to see the key features of each design. After all this information was compiled, I looked at the bests and worst parts of each design.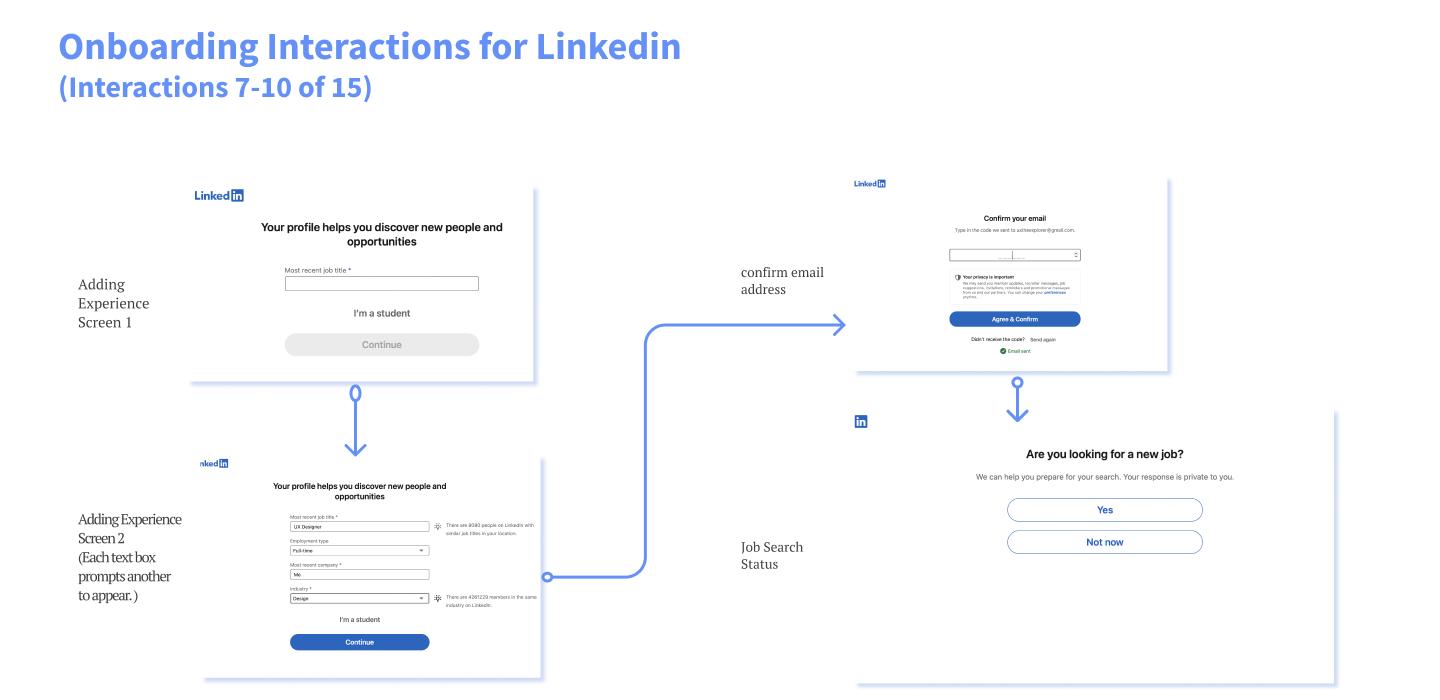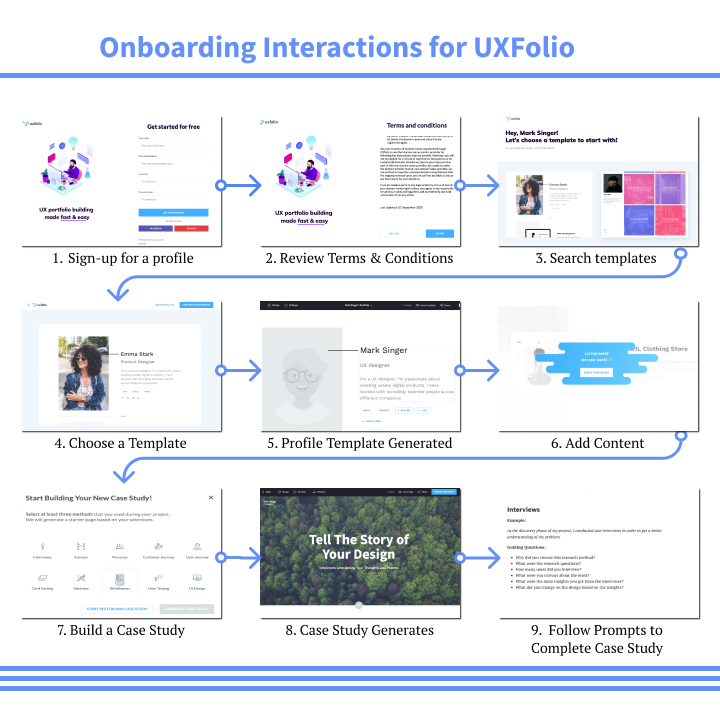 UXFolio Prompts Promise
One stand out between the three designs I looked at was the portfolio creator UX Folio. Recently, I saw how great this design was first-hand while taking a UX/UI bootcamp. One exceptionally perceptive student introduced us to UXFolio, which took my cohort by storm. Eight out of Nineteen students used UXFolio for their portfolio which was impressive considering that our cohort was the first to use the platform.
Using prompts to create case studies and about me pages were one of the innovative features of using UXFolio to create a portfolio. The use of prompts sounded like a promising feature to help teachers create profile pages. Soon prompts appeared in other platforms I looked at, confirming its importance in profile creation.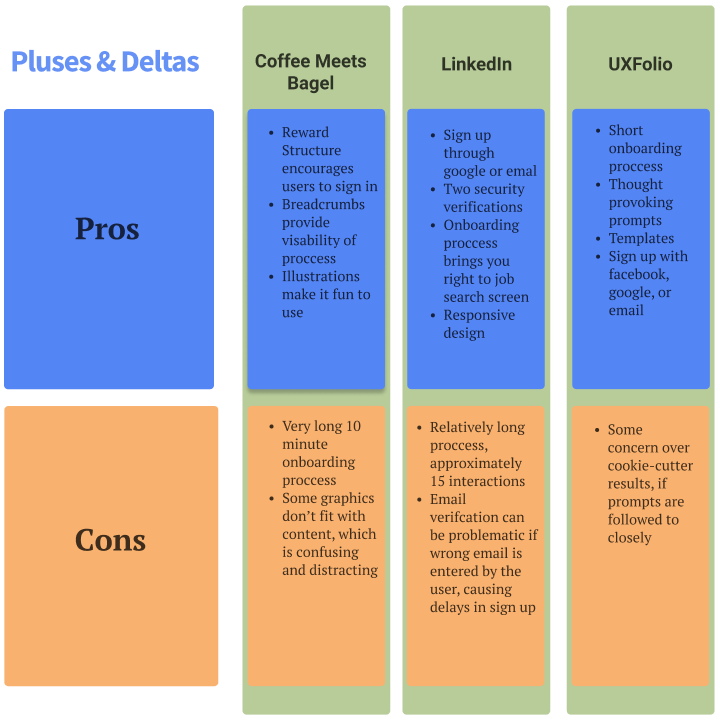 Outcomes of the C&C Analysis
A pros and cons list uncovered the effectiveness of the short onboarding processes of UX Folio, which I assumed would lead to more successful completion. Other comparators displayed use of illustration (which lightened the experience), and features like sign up through google and email, and security features like two-stage security verification. Cons discovered were long oboarding flows (Coffee Meets Bagel took me 10 minutes to competle). The email verification for LinkedIN was problematic if a user entered the wrong email address (which was what I did), which can cause delays in sign up. I also found the onboarding to be problematic, clocking in at 15 interactions.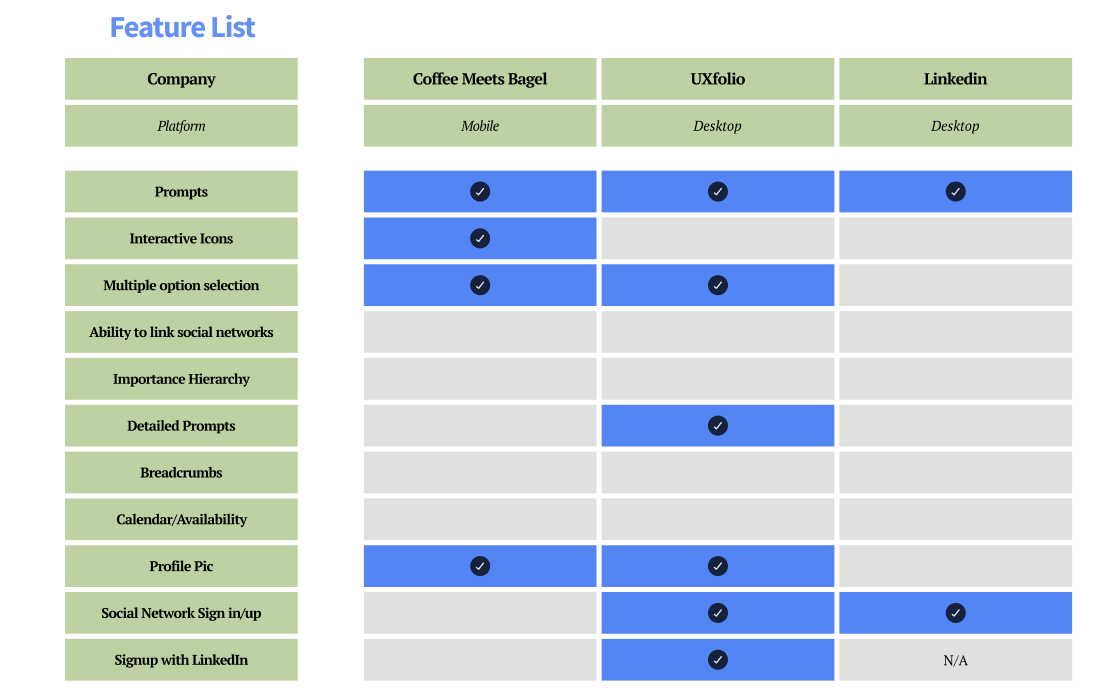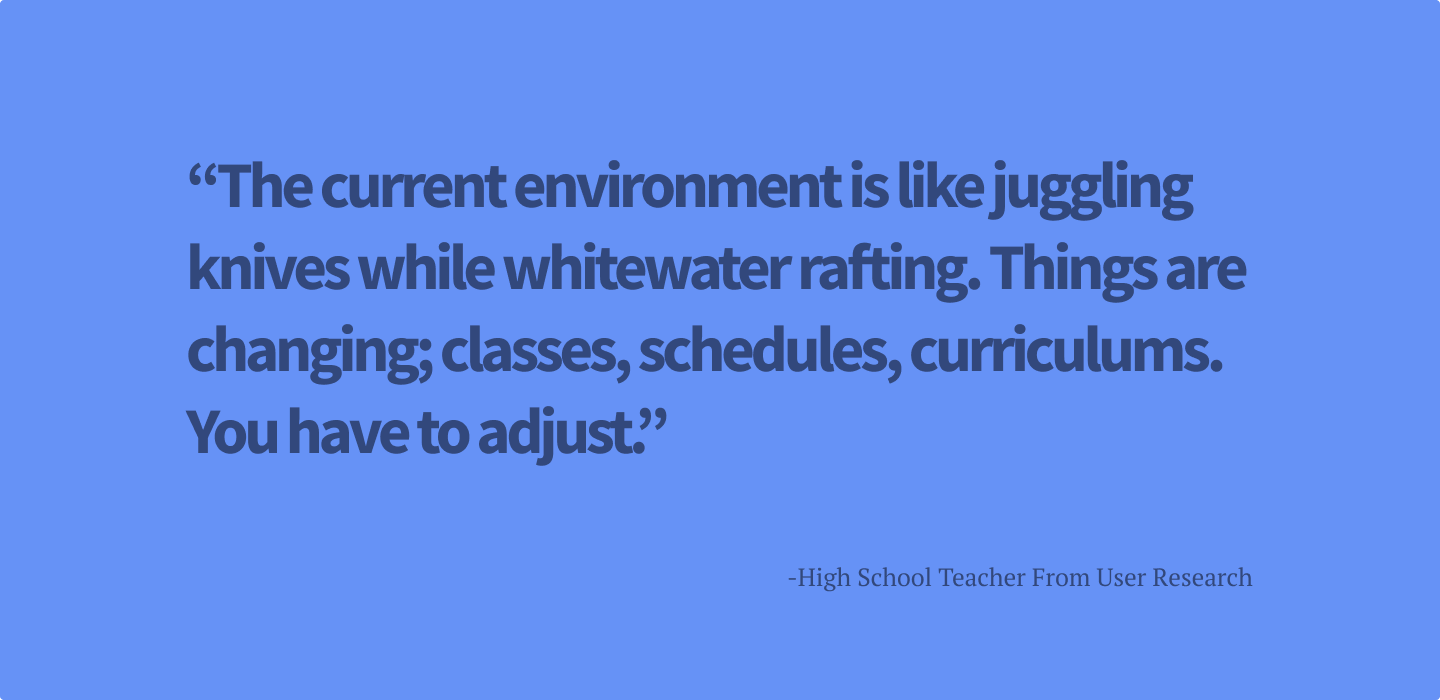 Interviewing Users
I first started my interviews by introducing the team and myself and assuring them there were no right or wrong answers, and that any feedback is welcome. Asking the user's permission to record the conversation is important because having recordings allows us to produce transcripts, and review the data. During theses sessions, my teammates would trade roles—one person would lead, one would support the leader, and one would be taking notes.
Understanding a Teacher's Day
During these sessions, I learned what day-to-day life was like for a high school teacher in a rural school district. Most of them met with us during their prep time. I found that opening the interview with a casual chat helped put the interviewee and myself at ease and allowed us to get the background information we needed. Background information is important because it helps us develop a baseline for our research.
Student Engagement is Mixed
I found that teachers felt that engagement was mixed for their students. In some ways, the pandemic renewed interest in sciences because it's topical and urgent. At the same time, many kids have been personally affected by the pandemic, losing grandparents, and loved ones. The effect of coping with such loss is reduced engagement in studies.
Insights Gained From Interviews
As a team, we added our large cache of insights to Miro so we could affinity map the interview data. Once the data was were added, we started to divide them into trends. The biggest trends we found from our users was an interest in student engagement, teaching styles, and exposure to role models.
Problem Statement
"As a teacher, Nancy often finds a lack engagment in her students. She knows that a connection to real world experiences broadens the student's exposure to career opportunities. Last year Nancy participated in an ambassador pilot program. She was frustrated because she coudn't connect with profesionals in an organic way. She thought the matches failed to properly connect with her students and class curriculum. Now, she needs a better way to engage with professional that will best connect with her class. "
I felt the wording was the most important, so that we got to the root of the problem we were trying to solve. I also advocated for a solution statement, which would guide future sketching and prototyping. I think this is important because it clearly puts forth what we want to create.
Solution Statement
"We need an onboarding experience that allows teachers to be able to communicate with industry professionals before inviting them to speak in their classroom. "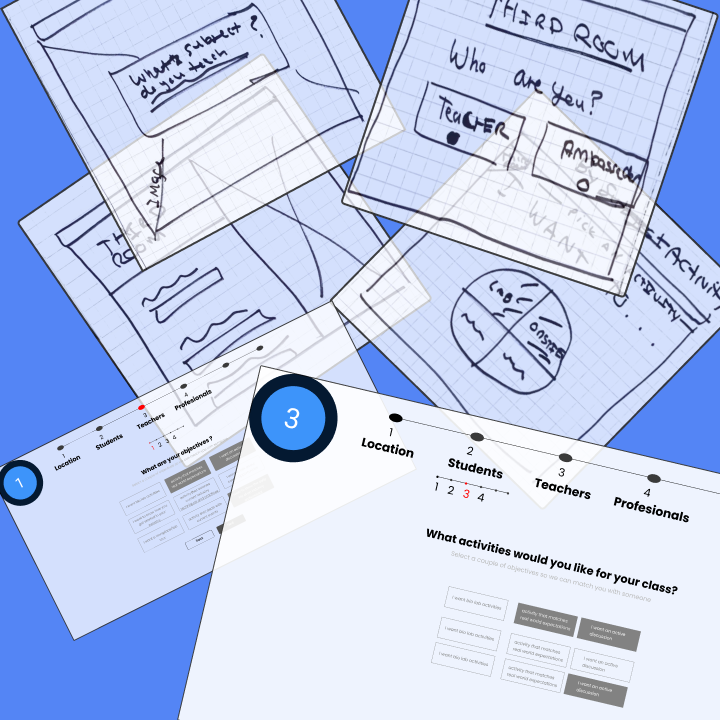 Sketches & Wireframes
When my team met for a design studio, I sketched out a flow that would narrow down the field of choices for the user, thereby selecting a path they would go down. The first part of the application would determine who the user is – teacher or ambassador. For the purposes of this project, my team was exploring the teacher happy path.
From there, the user would further narrow down their options by selecting the activity, then subject. Doing this would generate their teacher profile and populate suggestions of profiles of possible ambassadors they could interact with.
Doing these sketches helped me generate ideas for the prototyping phase, particularly the activities page. It also provided
Usability Testers Pose Challenges
My team and I faced recruiting challenge during usability testing. Some of our testers were in a rush, and some testers brought about certain biases, which made their sessions less usable. In the end, we had enough data to gather insights, and iterate.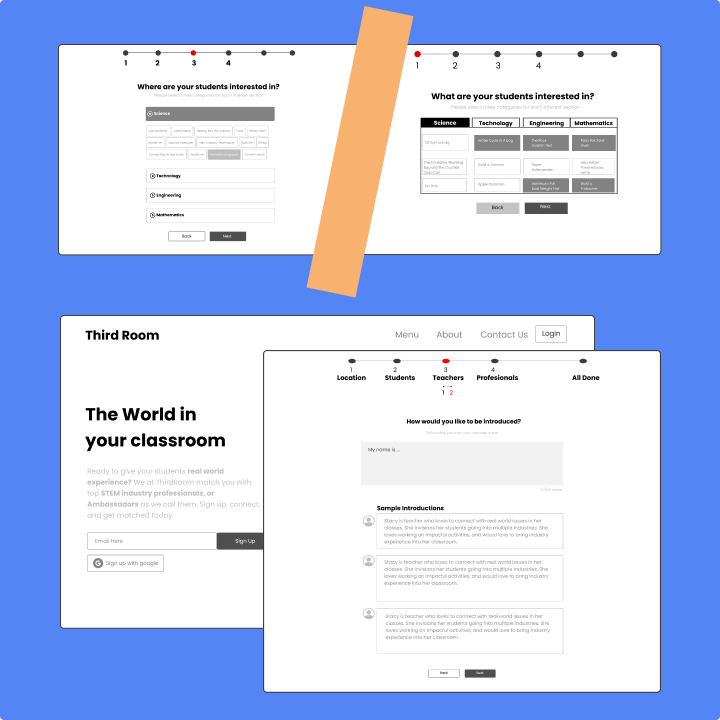 Usability Testing Insights
Users moved through the flow at a slow rate

A/B Testing showed the tabular design to be more intuitive, but also difficult to see all options selected. The accordion menu design was most effective at showing the testers their options, but some testers weren't sure what to expect from the design; testers weren't sure how many tags they could select or if the menus were able to open.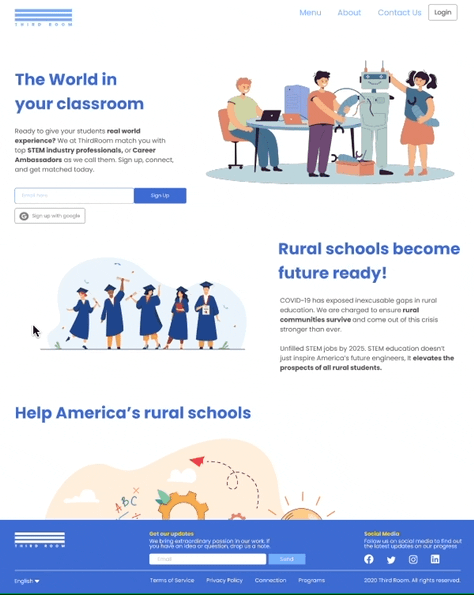 Hi-Fidelity Prototype
I advocated for improved UX writing, to help guide the user through the onboarding flow. My team collectively updated accordion menus and applied a color pallet to the design.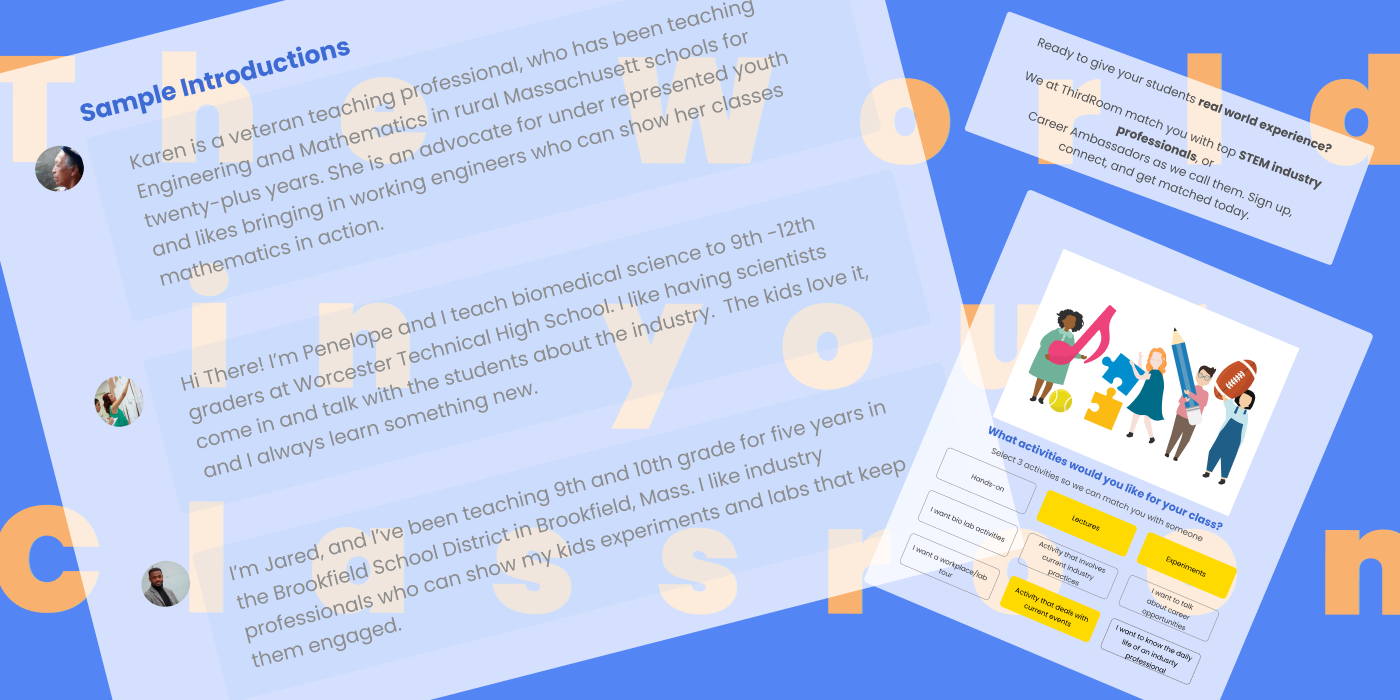 Presenting to Clients
Once presentation day came, we had a number of deliverables ready. In addition to our slide deck. we also provided the client with a Global Research Report, which outlined the work we had done.
When embarking on the Global Research report, I created a design system for text boxes, and images, which allowed team members to add text and elements, while keeping to the same style guide. Those components could be edited and placed on top of a three-column grid, to keep things consistent.